Here we go again ! After two years of cruise shows disrupted by the pandemic, the Chanel house opens the ball for these shows which traditionally take place in May and June, all over the world. On May 5, the brand with the double C was invited at the end of the morning on the beach of the Hotel Monte-Carlo Beach, in Monaco, to present this new collection in front of 400 guests, including the faithful of the house, including Carole Bouquet, Vanessa Paradis, American actress Kristen Stewart and director Sofia Coppola. Princesses Caroline and Charlotte of Monaco were also seated in the front row.
And as always with Chanel, the choice of location for these special shows is never left to chance. If the latest, in 2021, had been filmed – without an audience, due to the virus – in the Carrières de Lumières in Baux-de-Provence (Bouches-du-Rhône) to recall Gabrielle Chanel's links with Jean Cocteau, who there had turned The Testament of Orpheus in 1959, this year, heading to Le Rocher. "The connections between Chanel and Monaco are part of the house's heritage. As early as 1913, a ministerial decree authorized Mademoiselle Chanel to open a shop here to sell her products. recalls Bruno Pavlovsky, president of Chanel's fashion activities.
Read also
Chanel wears handsome in Les Baux
Gabrielle Chanel's attachment to the region was such that she built a house there in 1928, La Pausa, just a few kilometers from the Principality, in Roquebrune-Cap-Martin. Karl Lagerfeld also had a personal history with Monaco. He was a very close friend of Princess Caroline and for a long time made La Vigie, this sublime neoclassical residence overlooking the Mediterranean and which can be seen from Monte-Carlo Beach, his summer vacation spot.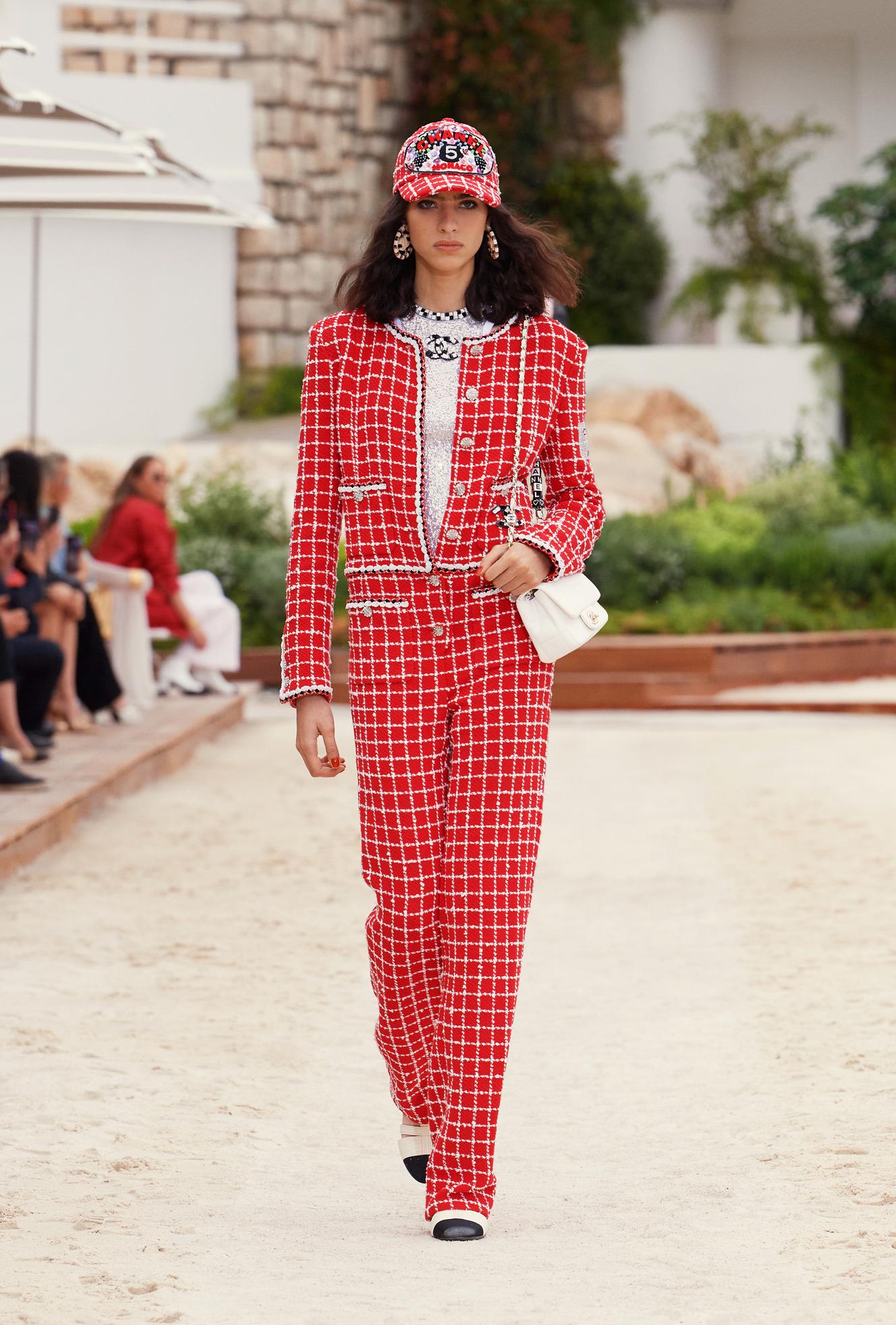 "The story continues today with Virginie Viard, our artistic director, notably through her friendship with Charlotte Casiraghi. For a first parade outside Paris since the beginning of the health crisis, I find that it is filled with symbols ", continues Bruno Pavlovsky. "Because Monaco, for me, is above all a story of affection. It's Karl, Caroline, Charlotte… says Virginie Viard, in the statement of intent for the show. I had known for a long time that we would organize a parade there, more precisely at the Beach Hotel. Besides, Karl dreamed of it. »
Formula 1 atmosphere
For this new version of 67 silhouettes, which will be available in stores from October 2022, the designer had fun injecting numerous symbols linked to Monaco and its imagination. We find in particular a fun bag inspired by casino slot machines, others in the form of a pilot's helmet or, here and there, a checkered flag pattern, evoking the Formula 1 Grand Prix, which will take up residence in the Principality on May 26.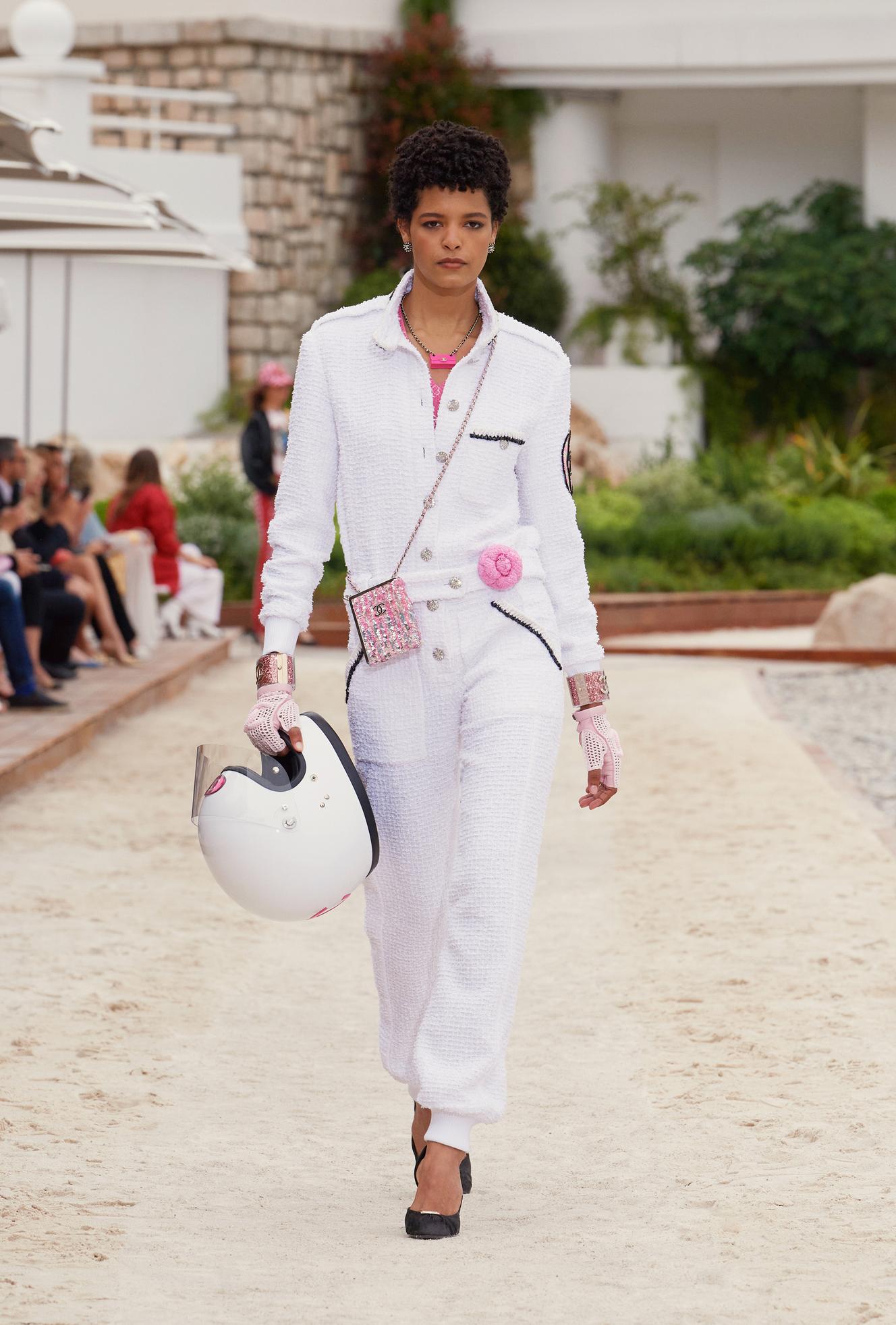 "There is a sporty atmosphere in the collection, but that's not all. There are many pilot suits, in tweed or silk, lined with fine terrycloth. Lots of sequins and flowers that form these embroidered breastplates on long shirt-dresses with fine stripes and white collars – a nod to Karl – on a dress in midnight blue sequins or even on bare back tops to wear with very wide pants, says Virginie Viard. We will remember the long fluid and airy petticoats, the pink tweed outfits worn very short or even the evening dresses, black and entirely embroidered with sequins. On the feet, the draped black satin pumps are inspired by the Monte-Carlo ballets and the pointe shoes of the dancers.
An essential issue for luxury players today, eco-responsibility is also at the heart of this collection. The house has been committed for several years to using more and more textile materials from organic farming – wool, silk, cotton… – and certified by the international GOTS label. This collection includes 50% of yarns certified in this way. The brand hopes to reach 100% within two to five years.
After Chanel, it will be Louis Vuitton's turn to present its cruise collection in San Diego (United States) on May 12, followed by Dior in Seville (Spain) on June 16. The cruise has undoubtedly resumed its journey.