Announcements of restrictions are multiplying around the world, as many countries face a new wave of Covid-19. The American authorities asked, Monday, December 6, their nationals to avoid going to a dozen new countries including France. Italy, for its part, has introduced new restrictions for the unvaccinated. Although we still do not know how dangerous it is, the Omicron variant, spotted in a growing number of countries, continues to worry health authorities.
The pandemic has claimed at least 5.25 million lives worldwide since the World Health Organization (WHO) office in China reported the outbreak of the disease in late December 2019, according to a report compiled by Agence France-Presse (AFP) from official sources, Monday evening.
The United States is, according to these sources, the most bereaved country with nearly 790,000 officially recorded dead, ahead of Brazil (615,000), India (473,000), Mexico (295,000) and Russia ( 282,500). The WHO estimates, taking into account the excess mortality directly and indirectly linked to Covid-19, that the toll of the pandemic in the world could be two to three times higher, i.e. 10 to 15 million deaths.
Americans urged to avoid travel to France
The message is clear : "Avoid traveling to France. » It emanates from the State Department to American nationals which, on Monday, in its new bulletin, raised its alert level for France to 4, the highest level of warning, as the holiday season approaches. year threatened by the new variant, Omicron.
"Due to the current situation in France, even fully vaccinated travelers may be at risk of catching and spreading the variants"explained the main health agency of the United States, the Centers for Disease Prevention and Control (CDC).
France and Portugal may be among the best vaccinated European countries, but they are both targeted by this alert, which targets around ten new countries, including Cyprus, Andorra and Liechtenstein in Europe, as well as Jordan and Tanzania. The State Department adds Mali and the Fiji Islands, which notably reported their first case of the Omicron variant on Monday.
Italy: new restrictions for the unvaccinated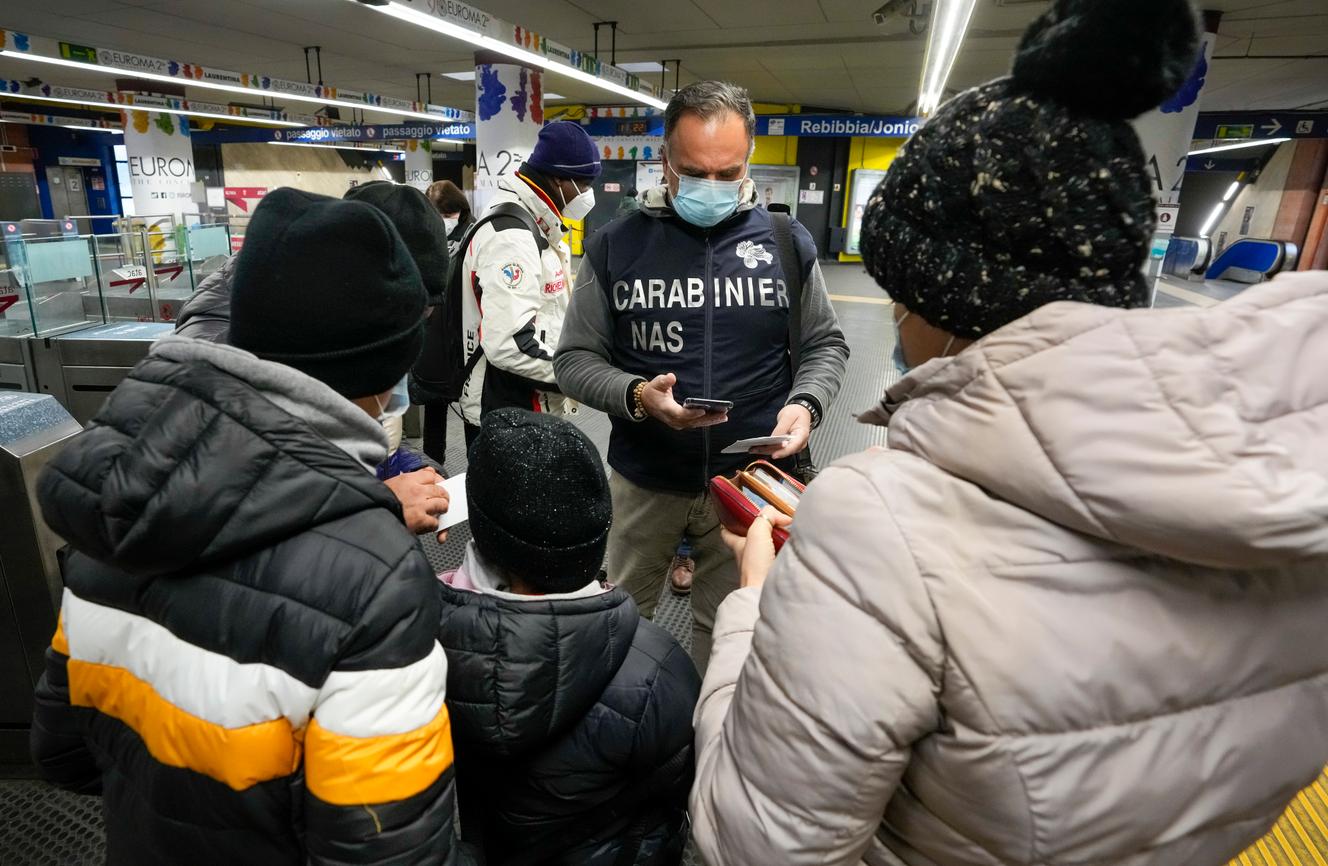 Unvaccinated people in Italy can no longer go to the cinema, theater, concerts or major sporting events, under new restrictions that came into force on Monday.
The peninsula, like its European neighbors, is facing a rebound in coronavirus contaminations and has adopted this new set of measures to try to stem it. The only exception to this rule: people who have recently recovered from Covid-19, who also have access to "sanitary super pass" granted to the vaccinated. The simple health pass, accessible with a negative test, is however sufficient to go to work, eat on the terrace or have a coffee standing at the bar.
This basic health pass, hitherto required to take the plane or long-distance trains, will also now be required for local transport (bus, metro and regional trains). Checks began Monday morning in stations across the country and a record number of 1.3 million health passes were downloaded on Sunday for this turn of the screw.
Measures to increase vaccination coverage in Western countries
New York Mayor Bill de Blasio announced on Monday that all private sector employees will be required to be vaccinated against the coronavirus starting December 27. The city councilor went further than President Joe Biden, who is considering a vaccination obligation, which was to come into force on January 4 but is currently suspended by a court decision, for employees of companies with more than 100 people.
Read also
Article reserved for our subscribers

Variant Omicron: Joe Biden refuses to reconfine the United States
Mr de Blasio clarified that all "private sector employers in New York would be affected by the vaccination requirement as of December 27", or some 184,000 businesses and businesses. Furthermore, from the same date, the "New Yorkers ages 12 and older will be required to show proof that they have received two doses of the vaccine"according to the mayor, who will leave his post on December 31 to be replaced by Eric Adams, elected on November 2.
Other countries are also taking steps to expand their immunization coverage. Greece has thus decided to open vaccination to all children aged 5 to 11 from December 15. The explosion of cases had forced Greek authorities to announce last week that the vaccine would now be compulsory for people over the age of 60.
New travel restrictions against African countries
The United Kingdom's decision to place Nigeria on its red list of countries whose travelers are banned from entering its territory to prevent the spread of the Omicron variant has been strongly criticized by Abuja. "This decision is unfair, inequitable, punitive, indefensible and discriminatory. Nor is it driven by science or even common sense."Nigerian Information Minister Lai Mohammed told reporters.
The British government has added Africa's most populous country to the list, which currently includes ten African countries, after it was announced last week that cases of the Omicron variant had been found in Nigeria. To date, the United Kingdom has detected some 160 cases of the Omicron variant on its soil. According to authorities, the vast majority of them have clear links to recent trips to South Africa and Nigeria.
Read also
Omicron: WHO advises vulnerable unvaccinated people not to travel to risk areas
"We sincerely hope that the British government will reconsider the decision to redlist Nigeria and reverse it immediately"added the Minister. He also said that developed countries would be better off ensuring that developing countries like Nigeria have access to vaccines rather than imposing travel restrictions. On Monday, the South African Presidents Cyril Ramaphosa and Senegalese Macky Sall also denounced the attitude of rich countries against South Africa after the discovery of the Omicron variant.
Canada has banned travelers from Egypt, Nigeria and Malawi for fear of the spread of the new variant. The presence of Omicron is now confirmed in around 40 countries around the world, the latest to have detected it being Russia and Argentina.
WHO rejects treatments using blood from ex-patients
Anti-Covid treatments using blood plasma from former patients have not yet been proven, WHO experts said on Tuesday. They "strongly recommend against using convalescent plasma in patients with mild disease"summarizes this opinion published in the British Medical Journal. They are a little less decided with regard to the serious forms, also coming out against the use of blood plasma from ex-patients but without adding the qualifier of "strongly".
Plasma treatment was one of the avenues followed since the start of the pandemic to treat patients with Covid-19. The idea is to take the liquid part of the blood of a cured patient to administer it to patients, in order to transmit the antibodies to him to fight the virus after an infection. But this therapeutic approach has not, for the moment, given convincing results, according to WHO experts who do not oppose, however, the continuation of clinical trials in this field.
Sweden takes a series of "precautionary" measures
Sweden announced on Tuesday a series of measures to "precaution" faced with the risk of a new wave of Covid-19, which is not currently hitting the Nordic country as much as elsewhere in Europe. The Scandinavian kingdom, which has just set up a vaccination pass for certain gatherings for the first time, is also considering extending it to restaurants and other places such as sports halls, announced the new Prime Minister Magdalena Andersson, in operation since last week.