The government announced on Thursday a drastic tightening of the entry conditions for travelers from the United Kingdom to our territory. But our neighbours, like some more distant but very popular destinations, are also taking action.
Vaccinated or not, it will be necessary, from Saturday, to be able to present a negative antigen or PCR test of less than 24 hours in order to claim to enter France from the United Kingdom. Mandatory seven-day isolation is also planned: a quarantine likely to be shortened after two days if the traveler is able to show the said negative test. And tourism to France is reciprocally excluded for the British.
This Thursday, faced with the intense circulation of the Omicron variant across the Channel, France decided to tighten its entry conditions from the United Kingdom. But the pandemic is also pushing the adoption of restrictions abroad. Devices that directly concern potential French tourists.
• UK tightens entry rules
The United Kingdom did not wait for France to lock itself in view of its current health difficulties. Thus, on Tuesday, Prime Minister Boris Johnson announced his own "turn of the screw".
"We will ask anyone entering the UK to take a PCR test 48 hours after arrival and to isolate themselves until they have the result", he launched during an address to the people. British.
• Negative test and complete vaccination schedule for Portugal
Among our European partners, the Portuguese were the first to hinder tourism, while the country experienced a particularly alarming hospital saturation a few months ago.
Thus, since December 1, it is necessary for all travelers over the age of 12 wishing to go to Portugal to present a negative test when arriving at the Lusitanian border, including for vaccinated persons.
• Switzerland's nuanced response
The countries bordering France are also concerned. And Switzerland is one of the nations that now complicates their access to foreign nationals, including the French. Since December 4, it is necessary to be able to present a PCR test dating from less than 72 hours for travelers over 16 years old in order to return to the country.
The only exceptions are certain business trips (there are many cross-border workers between France and Switzerland) and stays for compelling medical reasons. But it is not possible for tourists to deviate from the fixed rule.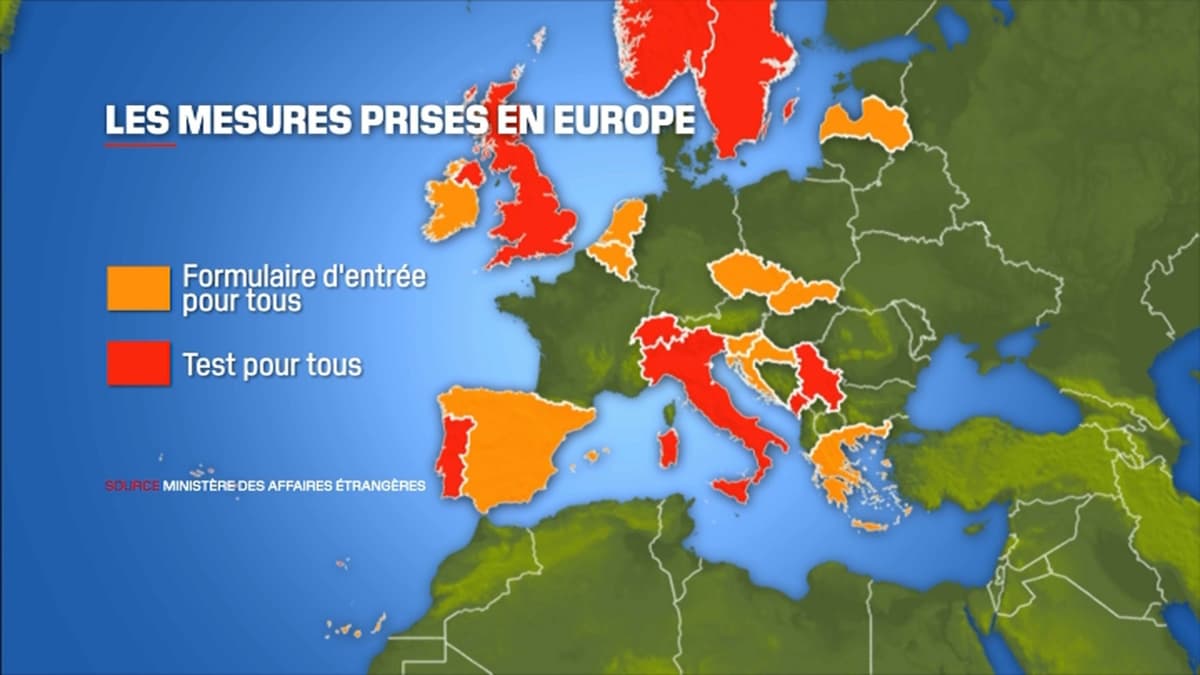 • Draconian solution for Italy
Further south, Italy is also raising its voice in the face of the evolution of the epidemic situation. Whether vaccinated or not, a French tourist must arrive with his negative test: carried out within 48 hours if it is a PCR, within 24 hours if it is antigenic. The arsenal does not stop there: you must also have proof of your complete vaccination schedule, or have a certificate of recovery.
Those who have not been vaccinated will also have to stay for five days at the address they have previously indicated on a traceability form. These measures will be in effect from this Thursday until at least January 31.
• North America is closing down
North America is no exception. While the reestablishment of flights to the United States was celebrated until recently as the symbol of an easing of the sanitary atmosphere, the American territory has since closed. Admittedly, it is always possible for foreign tourists to set foot in the country, but to do so they must not only be vaccinated but also present a negative test carried out the day before departure.
The Canadian formula with regard to foreign nationals is as follows: they – with the notable exception of Americans, however – must on the one hand be tested at the airport on their arrival and on the other, remain in solitary confinement until the outcome is known.
• Israel, Morocco, Australia, Japan: these countries that cut to the chase
Other potential destinations have chosen to cut to the heart of the matter. This is particularly the case of Israel. On Monday, his government announced in a press release the extension of the closure of its borders:
"Prime Minister Naftali Bennett and Health Minister Nitzan Horowitz have agreed to extend the current restrictions for all non-Israeli nationals (border closures) at Tel Aviv-Ben-Gurion International Airport for an additional 10 days from from Sunday December 12, 2021 midnight, i.e. until Wednesday December 22 midnight inclusive".
Three other countries have decided on a similar option. Until December 31 at least, it will remain impossible to travel to Japan. Same provisional deadline and same recipe for Morocco. Tunisia has made a different choice, requiring "only" a negative PCR test less than 48 hours old.
Australia, finally, is also closed to foreign tourists and has not set a horizon for a possible change in this area.
Robin Verner BFMTV journalist